In an effort to add a joyful and prayerful dimension to the Holy Sacrifice of the Mass, which to some is apparently lacking in the awesome mystery of the Holy Mass, Immaculate Conception Parish engaged the assistance of four grown women and seven school girls to "dance" around the Altar in the sanctuary area before and during Mass.
Of course, even though the Church reminds us that no one is to add, change or remove anything in the Liturgy, we were afforded an opportunity to witness another "performance" of "danced prayer" at the Christmas Vigil Mass on Christmas Eve.
There were "danced prayer performances" at the following times:
Immediately preceding Mass,
At the Entrance,
During the Gloria,
During the Alleluia, and
at the Recessional...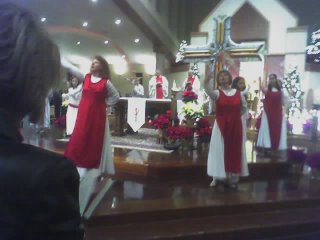 The performance during the Gloria.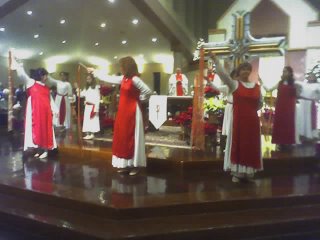 Immediately before the Recessional...
Finally, here is a Quicktime clip of the Alleluia,(courtesy of a cell phone)...Alleluia.3gp
And I almost forgot...there were a number of people who applauded after Mass...it was a late applause, almost an afterthought, it seemed. It was not spontaneous by any stretch, which is a good thing. The church was full (perhaps 1200) with another group in the chapel of about 300-400 and an overflow Mass was held in the parish hall (attendance numbers unknown)...There were 3 4:00pm Masses.
I'm not certain if the applause was for the musicians/choir members (who were great, BTW) or for the "dancers". But I do understand that we were only following the
G
uidelines and
I
deas for
R
evising the
M
ass (GIRM) #9,784 which allows for both dancing and clapping (as well as all sorts of other things).